Connect with those closest to you.
Uchi is a social app (not a social media) that makes conversations easier. Feeling connected is not about how many followers you have and "going viral". It's about connecting authentically with the people who matter most to you. It is your uchi that has the greatest impact in your life.
Uchi ( /ü-CHē/ ) means "in-group" or "inner circle", in Japanese.
Uchi – Introduction Video – 1 min.
Uchi – Complete App Tutorial Video – 34 min.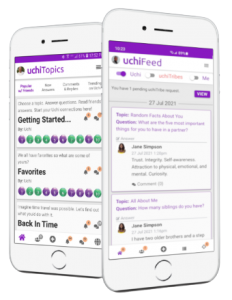 The best things in life require effort. Aren't your relationships worth it?
Uchi is like a gym for your relationships, but much easier.
Uchi helps get real conversations started by asking questions. It's like those card decks of questions but Uchi is available 24/7/365 from anywhere in the world! The questions are like the exercise equipment at the gym. When you do the work, you'll get the benefits.
You don't have to wait until you're together and in-person, to connect. With Uchi, you can feel a real connection even if you're not in the same place.
In fact, it's often easier to share your unique perspective in writing than when speaking, in-person. This is why letter-writing and books have worked so well for 2500 years!
My 12-year old daughter had not spoken to my ex-wife in more than a year. Within a week of using the Uchi platform, they've started talking again. Thank you!
Chad F., Father
Cleveland, OH
uchiTribe is an excellent team building activity that helped us shift from "me" to "we" thinking. It was a great way to refocus from the stresses or work to learning about our coworkers and building connection by getting to know each other in ways that wouldn't always come up in the context of the usual day to day small talk.
Meredith Sinclair, M.S., CRC, Executive Director
LIFE Behavior Consulting
Uchi may be the easiest EdTech I've ever reviewed and approved.
Greg Barlow, Chief Information Officer
Anne Arundel County Public Schools (AACPS)
I thought this experience behooved our team immensely as I was able to gain some insight into what my team members are like outside of the classroom. Sure, we communicate in our breakout rooms about the upcoming assignments and project, but this gave me an opportunity to get to know my teammates on a different level. Since class is predominately online, there is not much networking to be done, but communicating on Uchi gives us a chance to form friendships with our peers by answering interesting and thought-provoking questions.
Brian F., Student
Montclair State University
Safe. Private. Secure. We Don't Collect Your Data.
No ads. No user search. No profiles since you know your uchi. Your "Feed" has no algorithm. It consists of ONLY your uchi's answers and comments and is delivered in chronological order. That's it. Say goodbye to all the ads, noise, cyberbullying, trolls, and predators.
Your Words Matter Most
Uchi uses the power of written conversation. Pictures and videos often don't tell the whole story even if they're easier. But sharing your perspectives, in your own words, tells the real story. Afterall, the book is always better than the movie, right?
True Two-Way Connection
A big problem with social media is you can consume content without sharing anything. The only way to have a real connection is if both people are sharing and listening. Uchi makes it easy and in order to read one of your uchi's answers or comments, you must first answer that question. Reciprocity is our #1 rule!
Quality Not Quantity – Take Your Time
How often do we think of exactly what we want to say, when we want to say it? What are we really feeling? When we slow down to read and write, we become better listeners and communicators. Ten minutes a day using Uchi will help you feel more connected to the people who matter to you than hours of scrolling on social media. That means less screen time and getting what you really want, connection.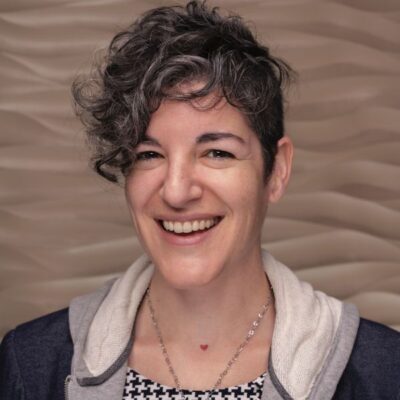 "I've been off FB and IG for a while now; the posturing of connection there got to me and stoked more anxiety than community. Uchi, on the other hand, has been a compelling way to deepen relationships. It feels real, thoughtful, and without the performative aspect of social media."
– SBR, Roanoke, VA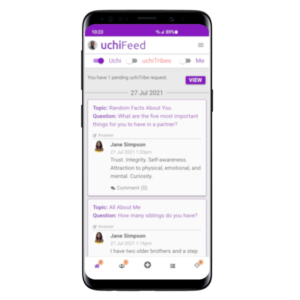 Uchi Feed – No Algorithm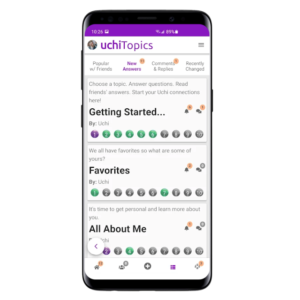 uchiTopics – Conversations Big and Small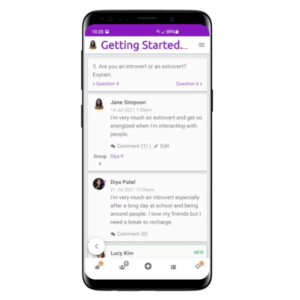 Answers & Comments
UCHI – The App
The best conversations begin with questions.
Invite up to 50 people to

your uchi

.

Answer questions from the uchiTopics database.

Answer questions from any topic, in any order, bounce and skip around!

Comment on

your uchi's

answers and continue the conversations.

Go at your own pace.

Write as much as you like. You can always edit your answer later.

Remember, you can ONLY read answers from

your uchi

and ONLY if you've answered that question first.

100% private and safe. We promise!
You'll be amazed how simple and effective a mobile app can be for feeling a connection.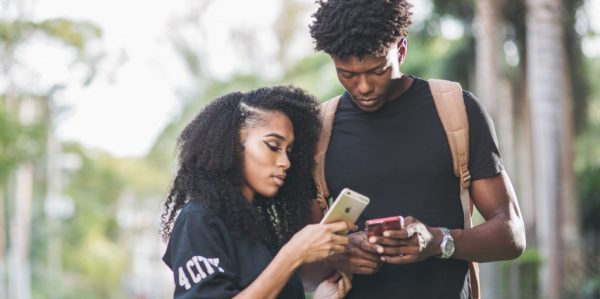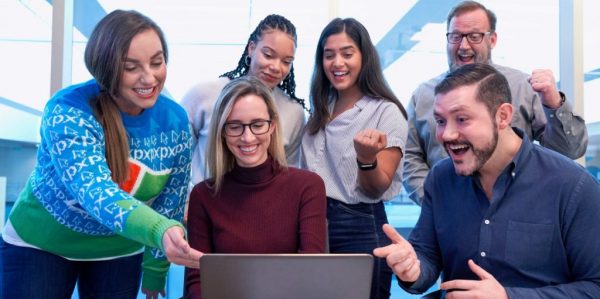 UCHITRIBE – Custom
Engagement begins when you ask someone's perspective.
uchiTribe Leaders create their own uchiTopic of up to 10 questions.

uchiTribe Leaders can invite up to 10 Members from in- or out–of-network.

Lead and join unlimited uchiTribes.

Each uchiTribe is its own private group.

uchiTribe Members only have access to the answers and comments of the uchiTribes they belong to.

Imagine the conversations you can lead in your family, among friends, at school or work, pre- and post-events and webinars, etc. to

really

engage and connect with people.
Customize Uchi to meet your needs – personally and professionally. Our goal is simply to provide a tool that helps you connect with your people, in just minutes a day!