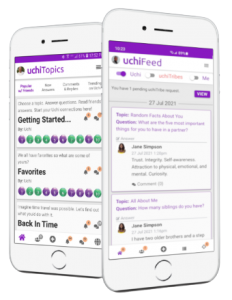 A private, social app. Not a social media.
Connect Authentically.
Uchi ( /ü-CHē/ ) means "in-group" or "inner circle", in Japanese. We'll help you connect authentically with YOUR people. Uchi is an app for having conversations that matter about topics big and small. Connecting means sharing your perspective, being heard, and hearing others. It brings us closer together and feels incredible; like you can do anything!
Better relationships mean a better life for you and those you love. Your uchi is what matters most.
UCHI – The App
Connect with those you cherish – unlimitedly. Uchi is a Q&A platform designed for you. Simply scroll the Uchi database and choose the topics and questions you want to answer, invite your family & friends to your uchi, and enjoy conversations that matter.
No ads. No spam. No data mining. 100% privacy and you own your content.
Uchi is the social platform you always wanted.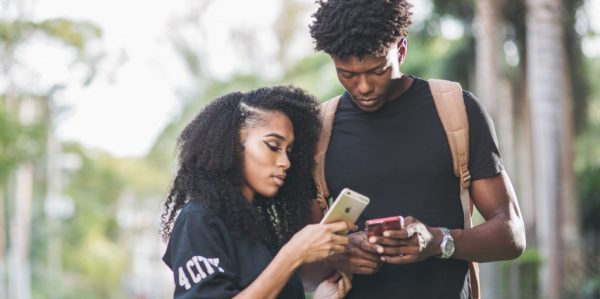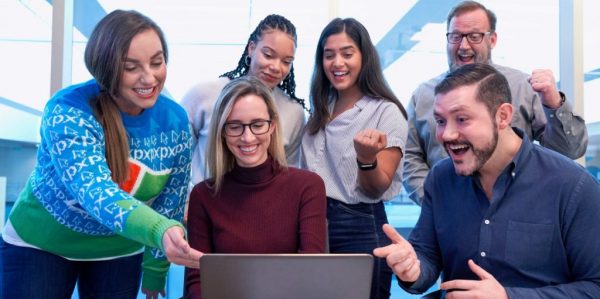 UCHITRIBE – Custom
Uchi is a connection tool easily customized for your needs – personal and professional. When you lead an uchiTribe, you create the topic of questions and invite members from your uchi or elsewhere. The only limit is your imagination for bringing people together. We just want to provide a tool that works.
FEATURES
Here's what makes us different.
Guided Communication
Uchi's FREE Q&A platform helps you have the conversations that matter. Answer the questions you want & skip those you don't.
Your Words Matter
Uchi uses only the power of the written-word. No pics, videos, audio, "likes", "hearts", "thumbs-up", etc.
Private & Safe
ONLY your uchi can read your answers and comment. We've virtually eliminated cyberbullying, trolling, and predators.
You Must Contribute To Consume
Rule #1 – You can only read a friend's answer if you've answered that same question.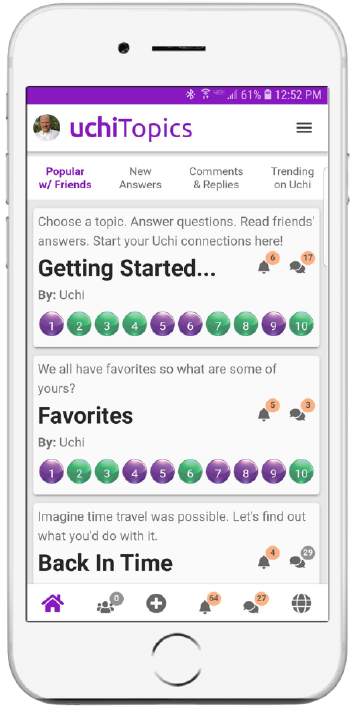 uchiTribe – Your Tool for Connection
Our fee-based option whereby you, the Leader, can 1) create your own set of questions and 2) invite Members that are in- or out-of-network. Click hereto learn more.
You Own Your Data
Use uchiLegacy to download ALL your data in a convenient PDF file. Free and Unlimited.
Nothing 3rd Party
No ads, investors, data-mining, credit card storing, pop-ups, GPS, etc. And we NEVER share anything about you with anyone.
100% USA Made
Uchi is 100% made and operated on US soil by US personnel and we follow GDPR rules.
SERVICES
Who and what we serve.
TESTIMONIALS
What people say about us.
"My 12-year old daughter had not spoken to my ex-wife in more than a year. Within a week of using the Uchi platform, they've started talking again. Thank you!"
Chad F., Father – Cleveland, OH
"As a psychology professor, I chose to incorporate the FamilyeJournal1 into my Positive Psychology syllabus as a program to help explore the factors that contribute to the enhancement of overall mental health and well-being. The program was a complete success with outstanding engagement by students (n=61) and additional members (n=159) from their social network. I highly recommend this platform for large groups, such as schools and other organizations.
Trey Asbury, PhD, Assistant Professor, Dept. of Psychology & Philosophy – Texas Woman's University
"When we use the app, the difference is amazing… more respect is shown and we understand each other at a deeper level. My children have stated they find it easier to write their thoughts down than to vocalize them – that is why they like the Uchi."
Leslie, Mother – Rota, Spain
"uchiTribe is an excellent team building activity that helped us shift from "me" to "we" thinking. It was a great way to refocus from the stresses or work to learning about our coworkers and building connection by getting to know each other in ways that wouldn't always come up in the context of the usual day to day small talk."
Meredith Sinclair, M.S., CRC, Executive Director – LIFE Behavior Consulting
1 Uchi was formerly known as FamilyeJournal.